NEWS
19th October 2017
The Power of Six - London's six Maths Hubs working together
Price Reduction! Due to additional launch-funding becoming available, we are now delighted to be able to reduce the price of tickets for this event to just £50*
Showcasing the best in maths education from early years to university, London's six Math's Hubs return with another unmissable event.
Venue
City of London Boys School, 107 Queen Victoria St, London EC4V 3AL
Chaired by Professor Dame Celia Hoyles and hosted at the prestigious City of London School just steps from the iconic St. Paul's Cathedral on the River Thames.
The event provides the opportunity to network and engage with excellence in mathematics practice across the spectrum. The last conference was sold-out so booking early is essential!
Tickets cost £50 and include lunch and refreshments throughout the day.

Confirmed Keynote speakers include:
Sir Kevan Collins,

Chief Executive of Education Endowment Fund and newly appointed "evidence champion" for the government's opportunity areas.

Jane Jones HMI,

Ofsted's National Lead for Mathematics

Vanessa Pittard,

former Assistant Director, Curriculum & Standards, DfE

Alex Bellos,

British writer and broadcaster on mathematics, science and football

Debbie Morgan,

Director for Primary, NCETM

John Mason,

Professor Emeritus at the Open University
Workshops and breakout zones will give delegates the opportunity to engage with excellence in mathematics practice. Choose from over 30 break-out sessions spanning four different zones: Early Years, Primary, Secondary and Level 3 - including sessions from Professor Paul, Craig Barton, creator of Mr Barton Maths; Jo Morgan, winner of the 2017 UK Blog Award; Dan Abramson, Head Teacher Kings College London Mathematics School; and Robert Wilne, former Director of Secondary at the NCETM.
Book your tickets here download flyer here
*If you have already bought a ticket at the earlier price you will receive a refund for the difference by the end of September. If you chose to be invoiced, this will be at the new price of £50. For any queries, please email us.
---
Mathematics in Education and Industry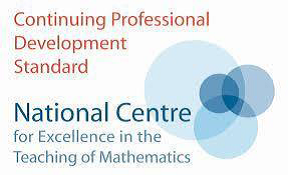 Teaching Advanced Mathematics
MEI's nationally recognised Teaching Advanced Mathematics (TAM) course, which has been working with teachers of A level Mathematics since 2004, will again be offered in various locations around the country in 2017-18. This 8-day DfE-funded course is designed to support teachers who are teaching A level for the first time. The course aims to help teachers develop their A level mathematics subject knowledge and pedagogy.
Costing just £600 the course includes:
eight course days hosted at one of ten venues focussed on A level Mathematics subject knowledge and pedagogy
two developmental lesson observations conducted by subject specialists
two years' access to MEI's 'Integral' online resources and unlimited email support from MEI
access to live and recorded online sessions
the opportunity to gain Masters level credits when studying the 'TAM with Masters course' at one of three university partner institutions
£900 bursary (or £1200 for 'TAM with Masters' courses) to participating schools on completion of the course in recognition of the support provided to participants
Applications are now open and the application form can be found at mei.org.uk/tam along with further information and frequently asked questions.
Please see the flyer which gives details of the London TAM courses.
If you have any other queries then the CPD administration team cpd@mei.org.uk will be happy to help.
---
A Year 6 lesson on line graphs - video and resources
Please check out the lesson on interpreting line graphs by London South West Maths Hub Lead James Berry on the ncetm website - you can acess the video and resources here https://www.ncetm.org.uk/resources/49421